"I'd know him anywhere!"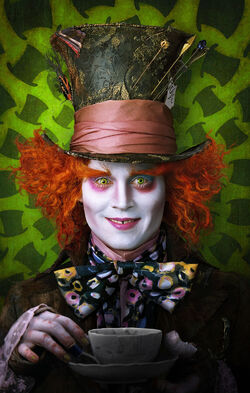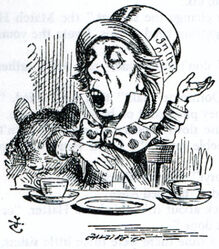 The Hatter appears in one episode of the anime Card Captor Sakura. He was really similar to Sakura's brother Touya Kinomoto.

In CLAMP's Miyuki-chan in Wonderland, the Mad Hatter counterpart is a hatted woman who takes the tea in the top of a flower with The March Hare and The Mouse, she posseses a magical pipe that can shoot a beam to transport people, as she did with Miyuki.

The character Xerxes Break from the anime

Pandora Hearts

seems to be based off of the Hatter. This can be drawn from his "mad" behavior and the fact his nickname is "Hatter". In addition, Break's chain is also based off of the Hatter: the "Mad Hatter" chain takes the appearance of a large top hat with an equally large red eye underneath it.

He also appears in the anime adaption by Nippon Animation

Fushigi no Kuni no Alice

.

In the anime

Project ARMS

, one of the Keith series ARMS weapon was code named the Mad Hatter.
Steve Buscemi plays The Mad Hatter in a skit on Saturday Night Live.

In the manga series Heart no Kuni no Alice he appears there as more of a normal human with the March Hare.

In the manga, Are You Alice?, the Mad Hatter is a character that protects a young man named "Alice."

In the manga, Angel Sanctuary, Belial, a fallen angel and the Satan of Pride, is also called Mad Hatter

One of the villains from the Batman franchise is a deranged man who thinks he is the Mad Hatter.

There is a robot known as the Mad Hatterbot in Futurama who resembles the Mad Hatter, who shouts out "CHANGE PLACES!" which all robots who near him obey.
Wayne Borean, aka The Mad Hatter, writer of the Through the Looking Glass blog at

MadHatter.Ca

.

Jacob David McKinley, aka Tha Madd Hatter. Rapper from Long Beach, California.

Music by Tha Madd Hatter
There is a place. Like no place on Earth. A land full of wonder, mystery, and danger! Some say to survive it, you need to be as mad as a hatter...which luckily I am.

-

Alice in Wonderland (2010)

If you knew time as well as I, you wouldn't dream of wasting it! -

American McGee's Alice
What a regrettably large head you have. I would very much like to hat it. I used to hat the White Queen, you know. It wasn't very much to work with. Poor dear. Her head was so small.

- Alice in Wonderland (2010)

You ran out on them to save your own skin, you guddler's scuttish pilgar-lickering, shukm-juggling sluking urpal. Bar lom muck egg brimni!

-

Alice in Wonderland (2010)
Well, then, Shall it be a bonnet or a boater? Or something for the boduoir? Cloche, dunce hat, death cap, coif, snood, barboosh, pugree, yarmulke, cockle-hat, porkpie, tam-o'-shanter, billycock, bicorn, tricorn, bandeau, bongrace, fan-tail, nightcap, garibaldi, fez...

-

Alice in Wonderland (2010)